⟵ Back
Guides
24. May 2023, 5 min read
A Toast to Dad: Father's Day Ideas for Restaurants
Many restaurants already celebrate Mother's Day by creating tasty events. But what about Father's Day? By creating a special event for the occasion, you can help guests treat their dads to a divine experience at your restaurant! Tune in for some fun Father's Day ideas, learn when it's time to commence the preparations, and how it can benefit your restaurant!
Father's Day is celebrated on different dates depending on the country you come from. However, all countries have one thing in common: it's a day for honouring and appreciating the contributions and influence of fathers in our lives! Many people are at a loss as to what to treat their fathers to for this particular day. This is why we've gathered 5 ideas for Father's Day and finally, we let you in on why it's a good idea to offer special events for the big celebration of dads!
5 tasty ideas for Father's Day
Are you eager to celebrate Father's Day, but you're not sure what to offer your guests? We're here for you! We've gathered 5 ideas you can carry out for the celebration of fathers.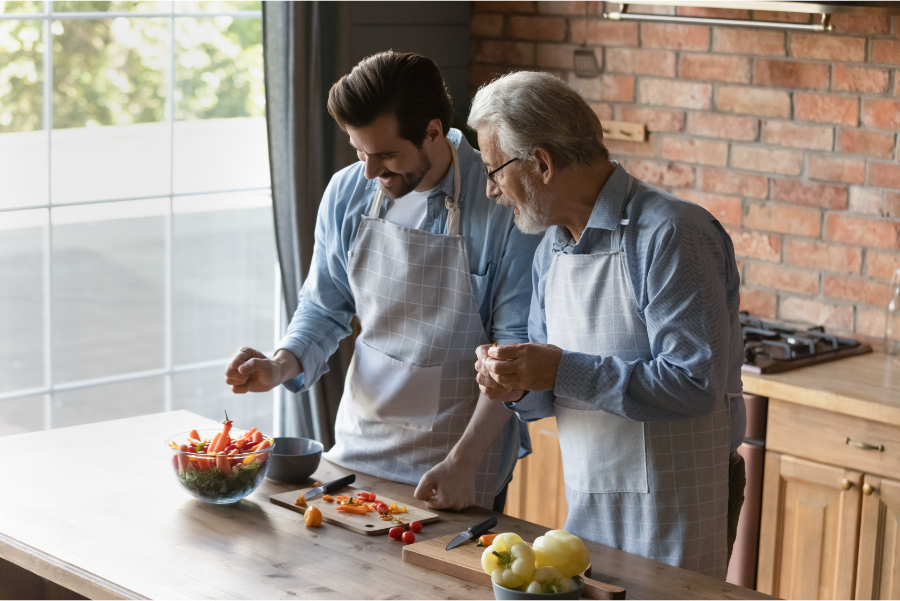 1) Pizza workshop
Certain restaurants already do it: pizza workshops! If this is a concept you're already familiar with in your restaurant or something you'd like to offer, you should create a special event for Father's Day! This is a fun way for fathers and their child(ren) to do something together while learning a tasty craft: making pizza! If your restaurant prepares dishes from other cuisines, you just exchange the 'pizza' for whatever gastronomic know-how you'd like to pass on to your guests!
2) Tastings
Does your restaurant have a vast selection of wine, liquor, cheese and other specialities? Consider designing a special Father's Day tasting menu. Let your guests embark on a fruity journey with French wines and cheeses or perhaps a refreshing ride with your best hops and malt in the centre!
3) Father's Day brunch
In 2023, Father's Day takes place on a Sunday in France, Norway, Hungary and Sweden, which for many is the best day of the week to go out for a delicious brunch. Also, this solution is convenient for guests who prefer like to celebrate their fathers during the day. Create a special Father's Day event for the occasion and treat your guests to a scrumptious brunch.
4) Special Father's Day menu or cocktail
If you'd like to create an event during the evening, you can consider tailoring a special menu or creating a new cocktail for the occasion. Or perhaps a new dessert you've been eager to try out. This day is just as good as any other to experiment with some new cooking techniques or some complex flavour combinations. The fathers might feel even more special if they're in for an exclusive, once-in-a-lifetime treat!
5) Takeaway: the down to-earth-solution
Let your guests know that they have the option to treat their dads to a nice culinary experience in a calm, peaceful setting: at home! Create a special takeaway event, have your guests pick up the meal at your restaurant, and let them enjoy your tasty treats at their own dinner table.
Remember to advertise those gift cards!
If your restaurant offers gift cards, you should share them with your guests on social media days or weeks in advance. By doing this, you're letting them know that your food is the perfect present for the dad(s) in their lives! Also, this is the ideal solution for those who are unable to celebrate on the exact day but still want to give a gift on the day of the celebration.
Many people search for ideas on Google!
1.7 million people around the globe search for the keyword 'Father's Day' on Google on a monthly basis. Moreover, 117K people search for 'Father's Day gifts' every month. These numbers say something… The people need your help and there's a great chance that your food is the solution!
Let your followers in on your plans!
The numbers above reveal that many people can't decide what to get for their father(s). If you've created a special event for the occasion or plan to do it, you should let your followers know on your SoMe channels!
Perhaps you can lure your guests to book a table at your restaurant for Father's Day by sharing some appetizing photos of your food with a captive caption suggesting that you have the answer to the indecisive Father's Day present-buyers. You can also create an event and link to it in your Instagram bio or share it on Facebook.
There are a million ways to go about this, but one thing is for certain: you need to let people know that your food is the best present for Father's Day!
Father's Day in different countries
Far, papa, isa, apa, père, dad… Just like you say the word 'father' differently in different countries, Father's Day is also celebrated on different days. Here's a list with the dates for Father's Day in 2023:
Denmark: June 5, 2023
In Denmark, Father's Day is always on June 5, which is also the country's Constitution Day. Since it's in June, there's a great chance that the weather is great! If you have a blackboard with the menu of the day, you should consider wiping it clean. Lure guests in with words such as 'Father's Day rosé and ravioli' in flourishes and draw some eye-catching illustrations!
France and Hungary: June 18, 2023
Summer's officially here! Maybe it calls for a fresh meal and some cold beverages on your sunny terrace. Or perhaps a special takeaway dinner to bring to the park or simply at home.
Estonia, Norway and Sweden: November 12, 2023
It's November and the days are getting shorter and colder. What better way to make these grey, chilly days a bit brighter for your guests than by offering a hearty meal for the occasion? How about offering a tasty takeaway menu or tailoring a mouthwatering menu to enjoy sur place? No matter how you decide to do it, you'll contribute to momentarily transforming a possibly grey, uneventful day into a fun, festive one!
Read our article about Mother's Day ideas for restaurants and recycle some of the ideas for Father's Day