⟵ Back
Interviews
19. March 2021, 5 min read
The man behind Brace: It reflects my personality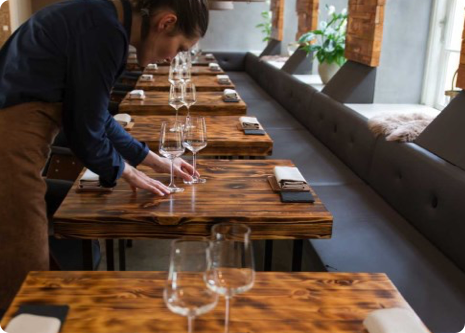 At the Copenhagen based Restaurant Brace, Italian and Nordic cuisine is combined in new ways. Read the interview with the top chef behind the idea: Nicola Fanetti.
In February 2017, Brace opened its doors announcing that they would merge the Nordic and Italian cuisine. The interesting mix met both wonder and skepticism, but since then the restaurant has been praised both in Denmark and abroad.
For example with an article in The New York Times.
Behind the restaurant, you will find the talented Italian chef, Nicola Fanetti, that has a past as head chef at the Italian Michelin restaurant, Era Ora.

When two worlds meet
In White Guide the special Brace-style was called bold originality. But for Fanetti, it is not about being bold – for him, the combination of Nordic and Italian is obvious:
"In my opinion, there are many similarities between Nordic and Italian – eg. the great focus on seasonal ingredients, the simplicity and the cooking methods," he explains.
And the combination with Nordic cuisine even has some great benefits, if you are a curious soul like Fanetti. He says:
"The Nordic produce is very accessible in Denmark. I can easily get interesting ingredients like wild herbs, rosehips and pine needles, that provides great flavor nuances."
On the Brace menu you will right now find dishes like Ravioli with rosehips and oregano and Durello di pollo with chestnut, wild fennel and black truffle.
Expresses personality
However, for Nicola Fanetti, the Brace style is about more than just combining to styles.
"It's a way to express myself and my personality – that is probably also a mix of Nordic and Italian," he explains and elaborates:
"On the surface, Danes can seem a bit cold and distanced, and so can I until you get to know me. Italians are very familar and informal, and that aspect is also very important for me."
And like on the menu it has been important to Fanetti to incorporate both the Nordic and Italian atmosphere ind the restaurant:
"I want Brace to be informal and familiar combined with a Nordic simplitity," he says.

All aspects must be considered
Before opening Brace in February 2017, Nicola Fanetti was head chef at the Italian Michelin Restaurant Era Ora in Copenhagen. About the change from chef to restarant owner, he says:
"When I was a head chef, I only had to focus on the food. Here, I have to focus on all aspects of the restaurant experience, and this is a new challenge for me."
For Fanetti, one of the most important things has been to be true to himself in the process:
"I come from a poor family, and thus, it is important for me to create a restaurant that isn't too fancy or posh. It has to reflect who I am all the way," he says.