⟵ Back
Tips
25. August 2017, 3 min read
How to use guest reviews to improve your business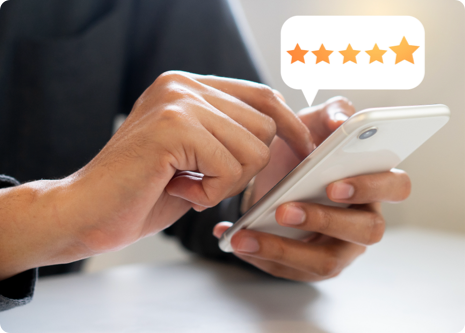 The guest reviews on DinnerBooking.com are popular like never before. In this article we give you tips on how to use these customer reviews to enhance your business.
Each month we receive more than 15,000 new user reviews on DinnerBooking.com and restaurant guests are increasingly using these reviews as a guide to where to eat. But it's not only the guests who benefits from the reviews – As a restaurateur you can also benefit from them. Here are 3 good reasons why it's a great idea to have customer reviews on DinnerBooking:
1. Improve your business
The user reviews on DinnerBooking can provide you with constructive feedback that you can use to improve your business. With the positive feedback you can continue to build on the good parts of your restaurant, while the negative feedback can give you an idea of where to improve.
At DinnerBooking.com you can keep an eye on what guests are writing about you – and respond to it quickly. Also, make sure your employees get insight into the reviews, for instance by actively using them at staff meetings – in order to improve it's important that your employees also know where you are strong and where you can tighten up.
2. Include user reviews in your marketing
You can benefit from customer reviews in different marketing materials, on your website, social media, etc. People today have high confidence in online reviews, so if a number of guests write that you have, for example, "the best pasta in the city", it will appear much more credible to share and highlight these quotes on your website and Facebook than if you write it yourself.
You can also get a small box (widget) on your website that shows how many stars you've received on DinnerBooking.
3. Become the 'Best Restaurant' of the month
If your restaurant uses the public DinnerBooking user reviews in Denmark, Norway or Estonia, you have the chance to get listed on the 'Best Restaurants'-list. Every month we announce which restaurants have received the best customer reviews and those in top will receive a diploma. There's no doubt that you can get a lot of great PR in this context.
What to do if you get negative reviews?
No matter if the reviews are positive or negative it may be a good idea to answer them. By responding to positive reviews, you give the guests an impression that you appreciate their visit and review, and it may motivate both them and others to visit and review your restaurant (again).
It may not be avoided that some guests have a bad experience in your restaurant that they share with others online. Generally, however, people are often positive and constructive in their reviews, and a bad review every now and then rarely does any harm. If you give the guest a good answer, there are actually good chances that their impressions of your restaurant can be improved even though they had a bad experience in the first place.
Whatever the guest writes you should have a polite and professional tone in your answer. Write how you intend to correct the problem that the guest expresses – IF you plan to follow up on it and make some changes. Otherwise, just make sure your excuse is sincere without too many "but", and remember that you're not 'just' writing to the guest yourself, but also to other users who might be reading the reviews.
How do I get started?
If you would like public customer feedback please just call us the support phone + 45 32555048 or send us an email to support@dinnerbooking.com – then we will activate it for you.